2020 April 3
Planted 3 double rows 60 long of Seascape strawberries.  We pulled out all of the old plants planted 3 years ago and started over with brand new crowns from the nursery.

2020 May 27
Picked our first pound of strawberries.  They are not covered and the birds did damage a few.  All of our pinwheels, sparkly ribbon, and reflective cds that we have used in past years have all worn out.  Will be getting some more to put ou there as a deterant.  I will also get our our case of wedding tulle netting to cover the rows.

2020 June 4
Picked 2 pounds of ripe strawberries (total 3#).  Loss to birds is less than 10%.  Today we put a number of dollar store pinwheels up and down each row to scare off the birds.  Last week we put wedding tulle netting over all three rows which does a good job of keeping the birds out and lets us see what is ripe. It would also let water through if you are sprinkling.  But it also keeps the bees out so you have to take it off every other day or so while you're out weeding or working in the garden to allow bees to polinate.  Once the plants are larger the fruit is not so visible to the birds but they will still peck some of the fruit unless you make an effort to cover or deter.

2020 June 7
Picked 1 pound of ripe strawberries (total 4#).  Loss to birds about 5 berries.

2020 June 10
Picked 1 pound of ripe strawberries (total 5#). Loss to birds maybe 4 berries.  Today I picked up 30 t posts 5' long to support raspberry trellis wire every 15' at 35" from ground. I also bought a grape tapener for tieing our vertical fruiting stems to the trellis wires on the grape rows.  Since I prune the grapes to grow up, if I don't tie the vertical growth to the trellis wires above the cordon, that growth will break off in the wind storms.  I have been using the same green tape to tie by hand over the years.  I finally bought a tapener.  Tonight I spread the dairy compost on the new row of Himbo Top raspberries, tilled down both sides of the row and hoed the compost into the dirt while weeding down the center of the double row.

2020 June 14
Picked 2 pounds of ripe strawberries this morning (total 7#).  There has been lots of rain.

2020 June 15
Picked 2.7 pounds of ripe stawberries tonight (to date total 9.7#).  Also picked a full pint of Prelude raspberries - first raspberry picking of the year.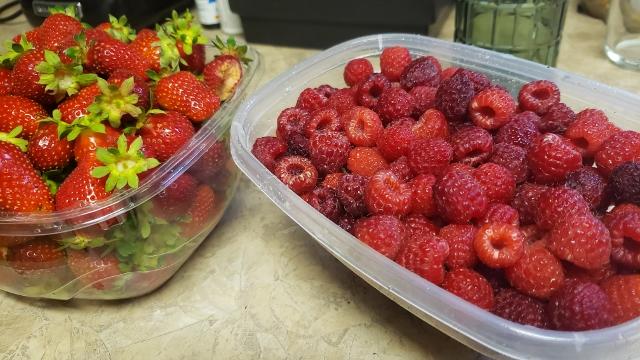 2020 June 17
Picked 2.3 pounds or ripe strawberries and 2 pounds of Prelude raspberries. All of the full size Prelude raspberries weigh 3 grams. They average 2-3 grams.  They aren't the largest raspberry but great size for being so early I think.

2020 June 23
The Seascape strawberry June crop is done.  There are a few strawberries left out there but you can tell the 1st crop is done.  The plants will now reset and send up their 2nd crop blossoms.  It leaves us with a gap in our strawberry picking.  After more than a week of 80-90 degree weather, the raspberries are in full production.  The Prelude have been ripe for over a week.  The Himbo Top and Canby are coming ripe together with their first big pickings.  The Titan seem to be about a week behind the Canby and Himbo Top.  The Canby berries are weighing 2-3 grams.  The Himbo Top weigh 3-4 grams.

2020 July 10
We picked 5 gallons of raspberries today

2020 July 11
We picked 3 gallons of raspberries today

2020 July 13
We picked over 2 gallons of black raspberries this evening - our first real picking.  Some of the berries were dried out because they've been ripe for over a week but we haven't had time to  pick them.