2018 April 24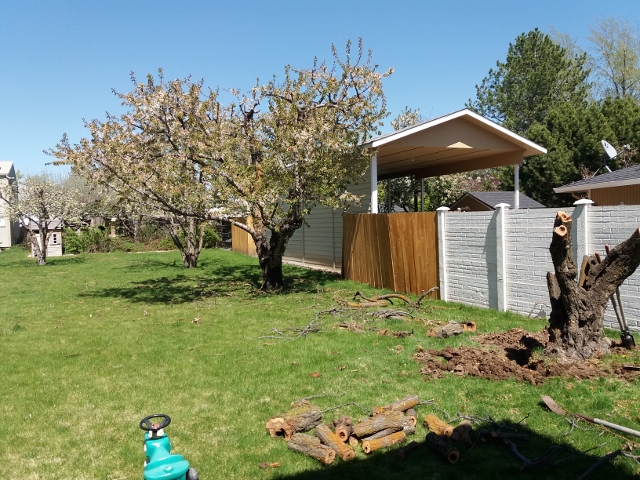 Patrick cut down the very sick Santa Rosa plum tree and then used truck to pull roots

2018 May 3
Robert Hunt received our Seascape strawberry crowns yesterday afternoon.  I went to his place and had him give me 3 or 4 big handfuls out of the 1000 count box to where it looked like I had about 1/2 of the box.  Then I went home and planted them from 7:30pm to 11:00pm and got all but about 40 planted. The cord for my light wouldn't reach the far end of the rows. When I got done planting this morning there were only 8 unplanted holes in the plastic.  As I planted I tossed some little plants aside and some that didn't have any roots and figure that if I had planted those too that I would have had the exact number needed.  I didn't though. They were just too small.  So I will get another 8 plants from Robert.  Total plants on my (5) 60' rows this year will be 589.  We plant 2 rows of plants 12" apart either side of the single drip tape on each of our 5 rows.

We took out 2 rows of Seascape and the row of Monterey strawberries across the garden that we planted 3 years ago.  We left 2 rows of Seascape and the Sweet Ann row so that we would at least have some fruit early even if it is small.  This year we are planting all Seascape.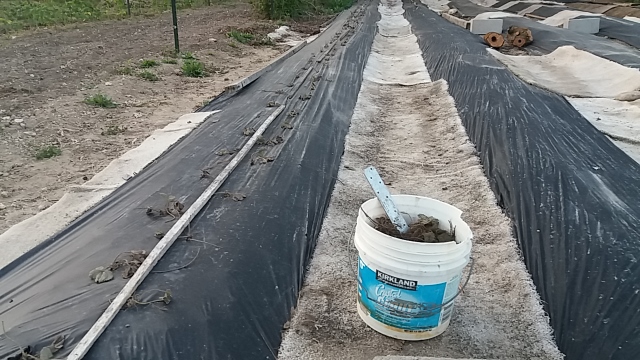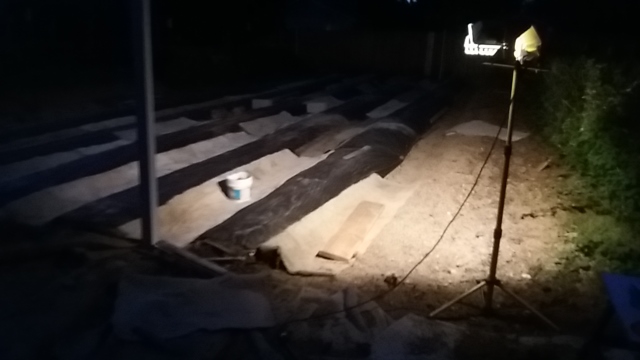 2018 May 28
We planted 4 palm trees, 2 Reliance peach trees, a Meyers lemon, and a Clementine Mandarine orange tree.  They were in the greenhouse all winter with minimal heat.  They wouldn't normally do well in Boise.  But we're going to have a little fun trying to grow them out in the yard.  The palm trees are all 4 rated down to -10F degrees but probably only temporarily.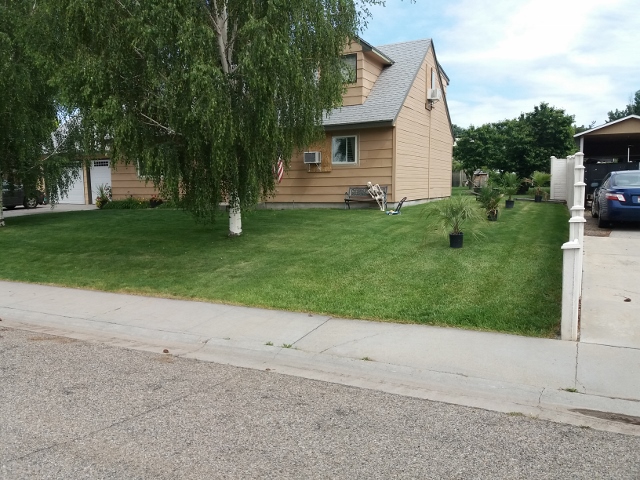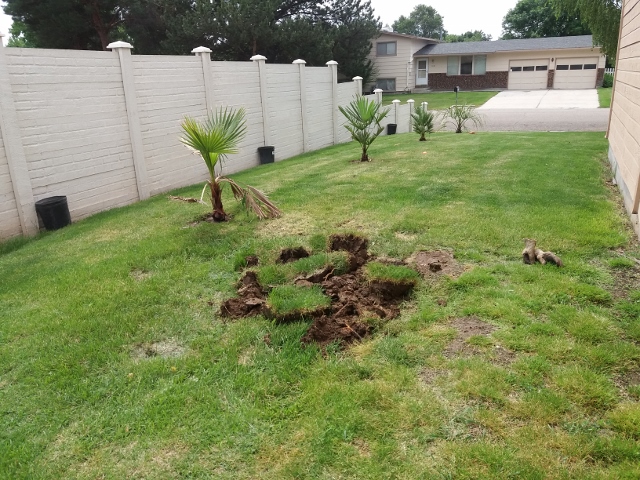 Mexican Fan, Mediterenean Fan, Windmill, and Pindo Palm trees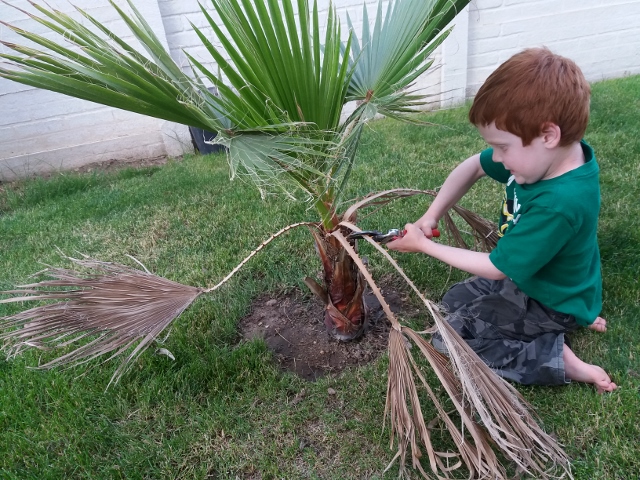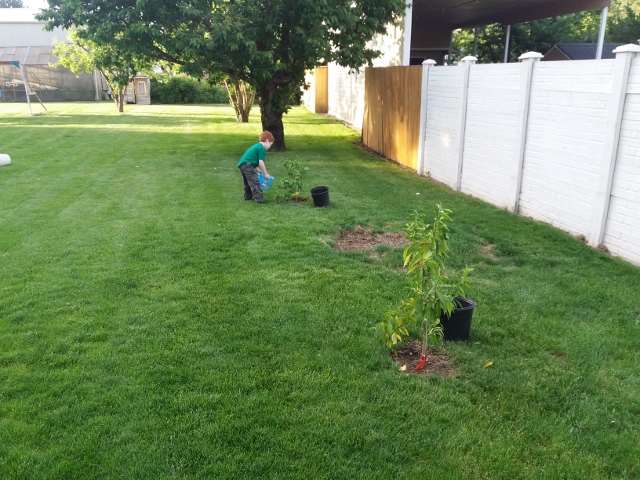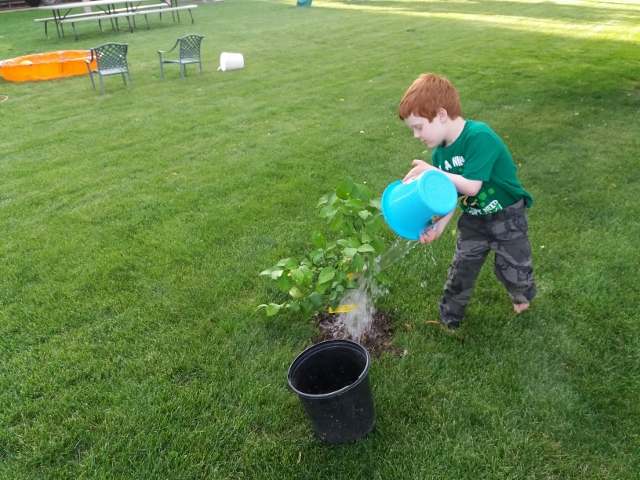 Ian is watering in the new Meyers Lemon tree

2018 May 28
These are the strawberries that we are removing this year. There are 6 rows that are now in their 3rd year or older.  The same plant growing for 3 years now has 20 plants trying to grow from the original single crown and so they get very crowded and produce poorly - producing a few berries in the spring and then nothing the rest of the year if left to grow.  As you can see, while our brand new plants are getting established, these old rows did give us some nice berries.  These pictures were taken today.  I put a little cold cereal in my bowl every morning and some evenings too and then fill the bowl with fruit - yum!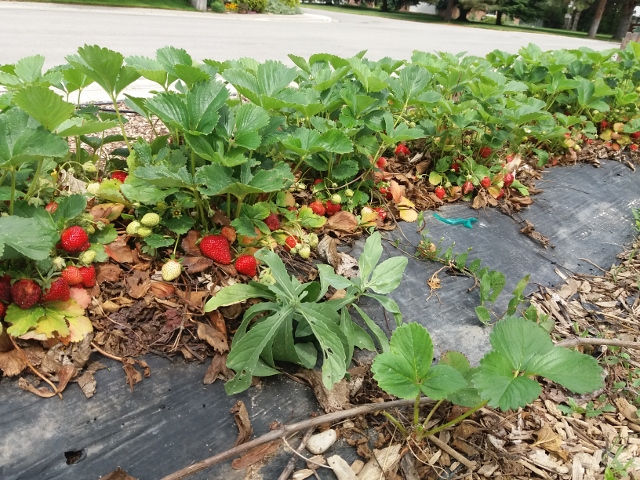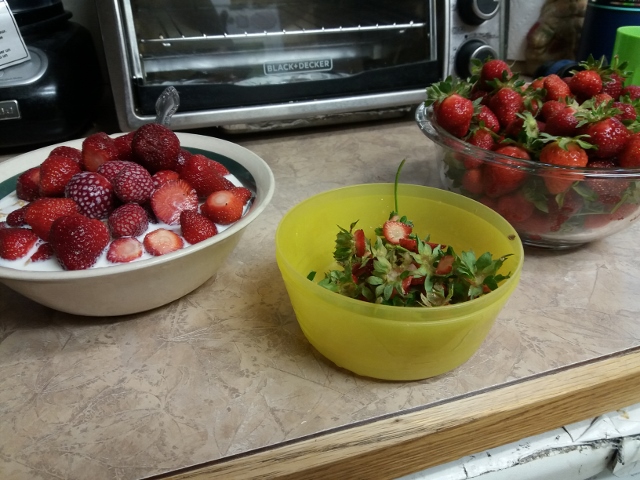 2018 June 10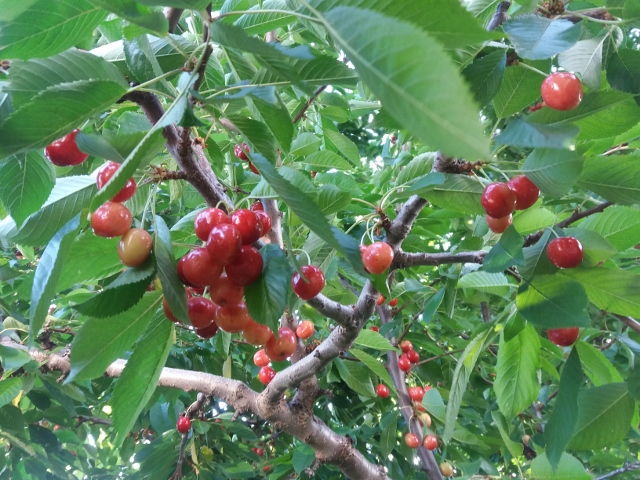 Bing cherries ripening earlier than normal 4 July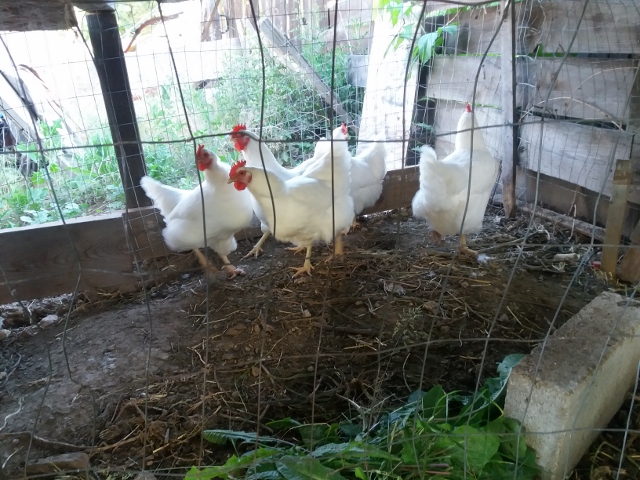 An ill friend of our neighbors Rick and Pam gave us some laying chickens this spring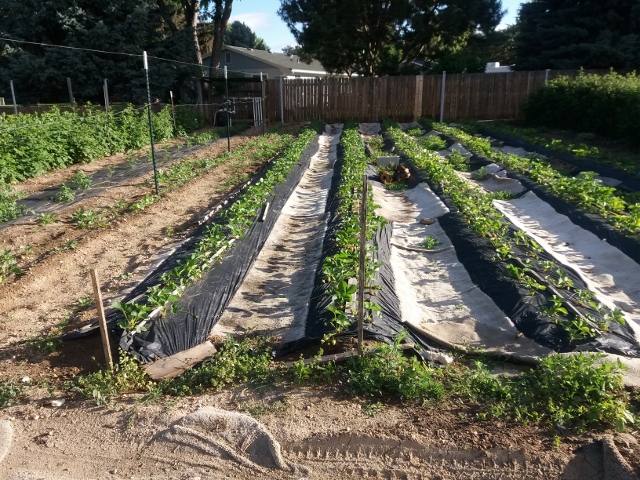 June 10 progress of new strawberries, cucumbers, eggplant, and tomatoes (far left)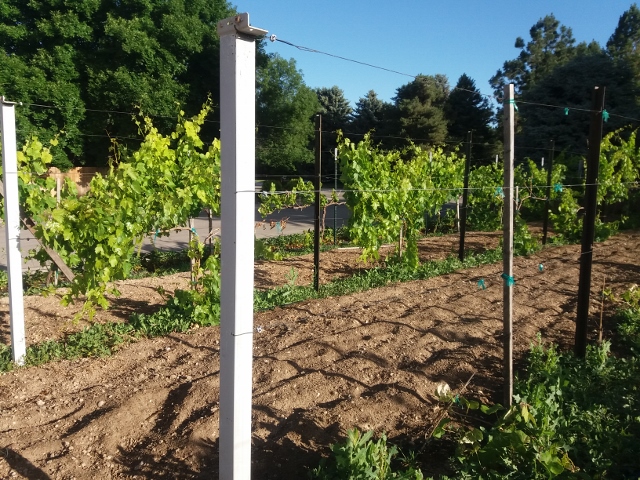 We didn't loose as many grapes to winter kill this year.  Planted 5 or 6 seedless Concord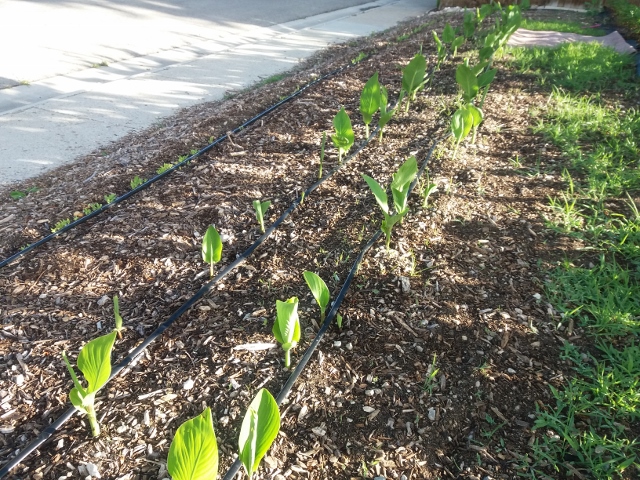 Canna lilies and zinias are sprouting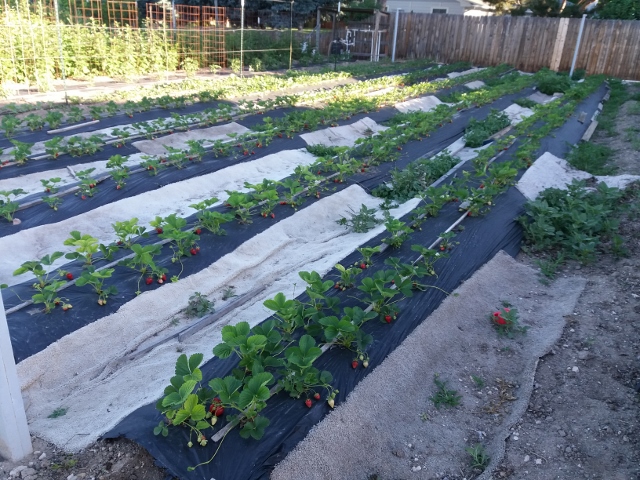 June 14th and we already have ripe strawberries on our new rows. 41 days since planting.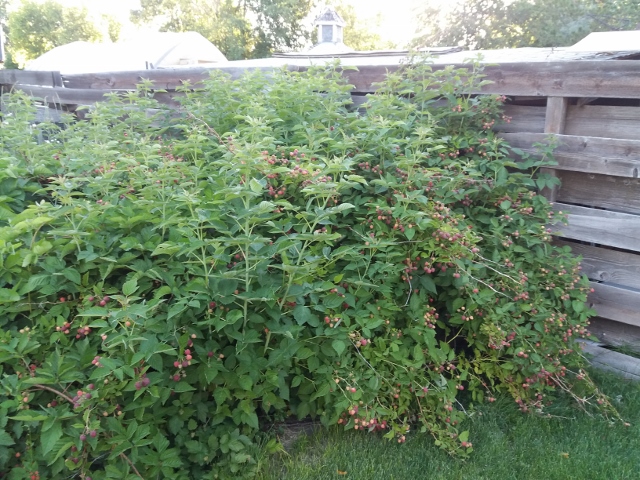 June 14 - Prelude raspberries are the first to ripen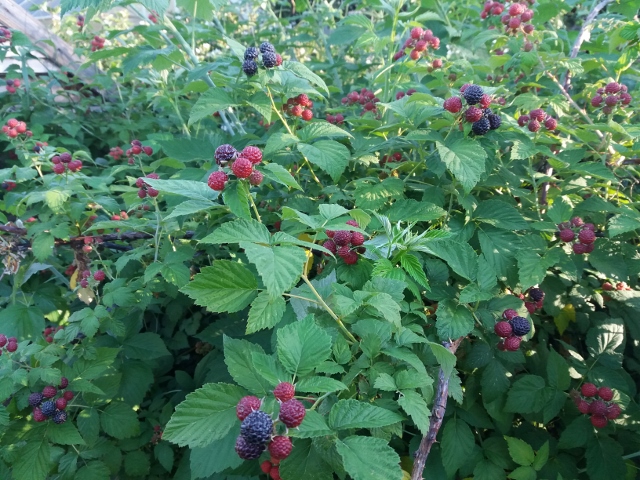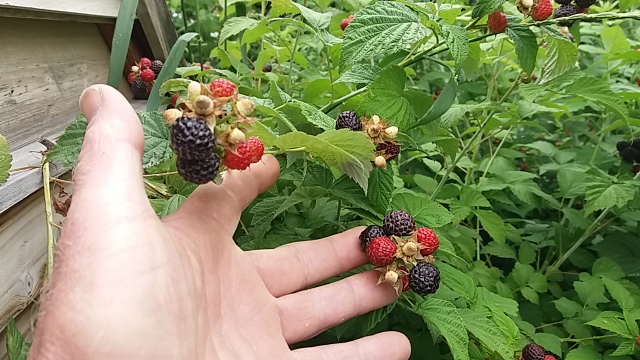 June 17. Jewel black raspberries are ripening. (also called black caps)

2018 July 25
Our Canby and Titan raspberries, our black raspberries, and our Prime Ark Freedom blackberries finished their spring crop on last years canes about a week ago.  Our Triple Crown blackberries are beginning their ripe season right now and they are loaded.  Our new strawberry plants are between crops right now.  Our cherry trees have been done for over 3 weeks.
The Autumn Britain everbearing raspberries that didn't get pruned are also done with their spring crop.  The unpruned fruiting spurs of the Himbo Top and Joan J are now in full fruiting mode.  We pruned the tops off of their new growth about a month ago and that is now blooming.
I didn't freeze any berries this spring.  I still have so many from last year.

Our Gok yard long beans are beginning to bloom and set fruit.  We have a few foot long bean already.  The cucumbers, zucchini, and okra have been producing for a month.  The artichokes are sending out 2 and 3 bulbs already.  We planted them through black plastic and they act stunted in height possibly because they don't like the heat of the plastic. The sweet and hot peppers have been producing for 2 - 3 weeks.  We are now picking cherry tomatoes every day.  They are over 6' tall.  We haven't lost any tomato plants to rot or wilt this year.
The squash bug has already killed all of our cantelope, pumpkin and yellow summer squash and a number of our spaghetti squash plants.  They haven't yet affected any of the watermelon or butternut squash.  We planted the plants through black plastic and have not tried at all to control the squash bugs this year.
Our giant zinnias and canna lilies and starting their blooms this last week.  The chickens like to dig around in the wood chips that they are planted in so I have to go out everyday and fill in their holes and sometimes stand the plants back up.
I removed the Sweet Ann strawberries and tilled that row last week.  I am currently removing a row of old Seascape strawberries.  Every day I run the cucumbers up the strings a little higher - almost done with that.  I've been doing that with the beans and they are fully trained to the strings now.  We trim the tomotoes and raspberries every chance we get.  I thinned both pear trees 2 weeks ago and started thinning the apples last week.  We haven't sprayed the fruit trees at all and don't plan to this year so we'll have to cut around worms in both the pears and the apples.

Updates July 29th 2018 showing size of fruit on our new citrus trees: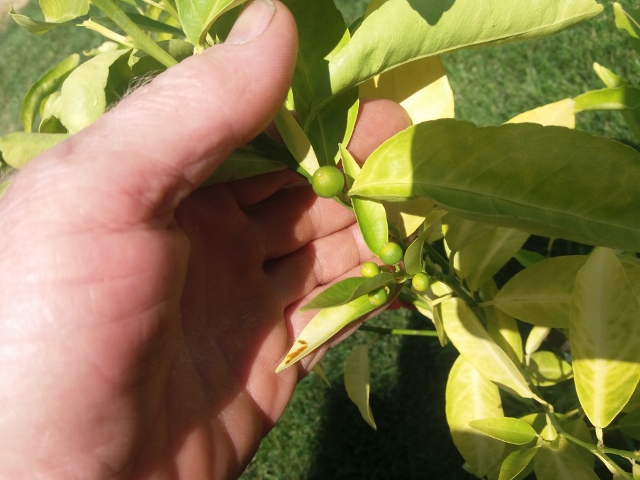 Clementine Mandarine Oranges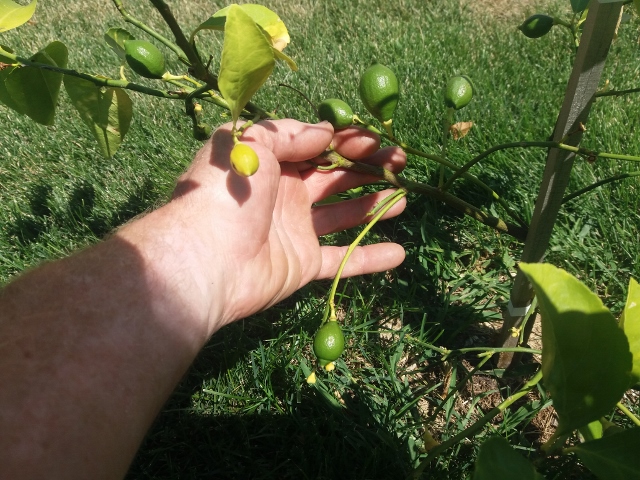 Meyers Lemons