March 21, 2016
A family in Burley, Idaho called and said they got some Albion strawberry starts from us 2 years ago and like them better than last years Seascape.  A family in Meridian said the same thing.  Not everyone's soil is the same.  Some people like a darker berry and some people like a firmer berry.  Each family has to find their own favorite variety.

We tore out the row of Monterey strawberries that we started last year.  Almost all of the plants died because I didn't get them transfered very fast to there from their original location and the weather was warm.  The we rebuilt the row with new drip line and plastic mulch and planted 110 new Monterey strawberry crowns fresh from the nursery.

March 28, 2016
Kristi and kids came to help in the garden. We prepped a row for broccoli but didn't finish. The Wilsons stopped by for some strawberries as did Ted Anderson earlier in the day and they helped us (6 of us) hold down the black plastic mulch in the wind while we anchored it with sand on the edges. 
March 29, 2016
I planted a whole 60' row of broccoli - 3 different types. Waltham 29 from our greenhouse, and the other 2 from D&B Glenwood. Last year we did a raised bed covered with black plastic over drip irrigation tape.  Then the broccoli acted like they were too hot and didn't perform at all.  This year we prepared the bed and flattened the row before laying drip line and black plastic.  Then we planted the plants in a small indentation in the ground through the plastic so that rainwater would drain into the plant. 

April 1, 2016
Planted double 60' row of Sweet Ann strawberries and single 60' row of Pontiac red potatoes with Justin Lott and family and Kristi, Oliver, and Hazel. I was going to plant Sweet Ann strawberries 2 years ago but we forgot to keep some for ourselves and sold out. We installed 3 t-posts in line with new boysenberries and Marionberry.  Got all of the vines in that row up on the wires.  Finished pruning original boysenberries and started on Kiowa blackberry pruning.  We also put a light layer of Boise City tree trimmings mulch on top of the black plastic mulch on the flat broccoli row to keep the sun from making the plastic so hot around the plants.  The strawberries, peppers, tomatoes, etc don't mind the black plastic.

April 2, 2016
I'm noting here that temps were pretty warm this last week and even into the 80s this next week with very little rain.  The reason I mention this is that it may become tougher for strawberries, rapsberry transplants to become established now whereas planting before now during the cooler rainy season would have been better.  I would say to have strawberry starts in by 25th of March or earlier for best results.  They will not be so stressed by warm dry weather first week or two and they will easily be established for their June crop.  We planted a row of Seascape last June 1 and the plants look nice but there was barely any fruit production through the rest of the summer.  The Seascape row we planted March 25th produced an amazing crop all summer long. 

For the first time this year it is dry enough that we needed to water everything in the garden by hand from our back shop water storage system.

The Caroline raspberries have been sending up lots of starts for 2 weeks.  There are also some starts from the Latham and K81-6 raspberries.  The Canby and Titan are still not sending up many starts.  None of the grapes are sprouting yet.  I pruned all of the grapes last week.  I have finished pruning and trellising all of the blackberries, boysenberries, and Marionberry. We may have to rebuild the Triple Crown blackberry trellis this year.

The plum tree has been blooming all week.  The cherry and pear trees are just starting to bloom and the peach trees will be blooming this next week. Low temperatures next week range from 37 - 50 degrees.  Hi temps range from 58 - 83.

April 11, 2016
On Thursday the 7th I had Star Tire put new 10 ply 15" tires on Fackrells dump trailer.  The trailer had 205/7515s on it before.  We installed 225/75r15 load range e tires.  They are an 85 psi tire and will support a larger load.  Then Saturday I went out to Melba and got my first 7 yards of compost.  The guy there said he mixes dirt with it to make it better compost.  The first 2 loader buckets was too heavy so he offered to give me some pure compost and that the last bucket full would be lighter.  I thought the axels would break all the way home. I don't need dirt mixed in it anyway.

On the way home I saw a smaller Kioti 26hp diesel tractor for sale out on Amity by Eagle Rd.  So I called the lady about it.  She said that there had been a lot of calls on it and it's not listed in the ads.  I continued home and switched trailers and headed on into the piano store. I spoke with Jim and Robert Hunt on the phone about the tractor.  They both said it was an amazing deal.  I was almost to the piano store when I called the lady and told her I'd take the tractor.  I dropped off a down payment after the store closed.  I'll pay the rest next Wednesday.   The tractor comes with loader, tiller, box scraper with ripper teeth, and brush mower.  She also sold us their old John Deere 1-row potato harvester.

The dump trailer lift system battery was dead so I got Fackerells charger and charged it all weekend.  This morning I shoveled much of the load of compost off of the trailer by hand because, even though the battery was charged the load was too heavy for the lift sytem. Then I drove back out to Melba for another load of compost.

This is the best compost I have ever seen.  He loaded 3 loader buckets full into my trailer of the type that has no dirt in it but is in its last stage of break down and it is super fluffy.  It is more fine in texture than the "screened" compost I paid $45/yard for at the Meridian Greens nursery a couple of years ago. Meridian Greens this year has their compost priced at $32/yard.

Today Kristi and family helped weed some raspberries and then we spread compost up and down the raspberry rows.

16 April, 2016
It rained pretty heavily a couple of times the last 3 days. But we dug some raspberry starts last night and the soil was still pretty dry. Heavy frost this morning after a week of 80 degree temperatures - CRAZY. Forcast was for 36 degrees.  Yesterday forcast was 37 degrees and there was no frost. Everything is either in full bloom or done blooming.  Next week will be 80 degrees again. We need a real good way to keep frost off of the yard for one day to save the fruit. All of our strawberries are in FULL BLOOM.

12 May, 2016
Picked first ripe strawberries from new double Seascape row planted last June 2nd. Got 5 pounds.  Plants are loaded and berries are large.  Covered this row and the triple Seascape row from last year with wedding tule to keep birds out.

14 May 2016
Picked another 13 pounds strawberries from new double Seascape row planted last June. Lifted wedding tule netting from berries to pick and still got stung by a bee.  We would normally pull back the netting while we are in the yard to let the bees in and then cover when we leave.

In the last week and a half, I tilled the new Coleen garden which is 100' x 100' with the tractor.  Tilling takes about 2 hours.  Then a few days later I ripped it with the box scraper teeth down about 14".  Then earlier this week I tilled the whole thing again.  Ian rode with me that day and helped drive the tractor while it tilled.

I went over to the Coleen garden and planted for the first time tonight.  Our Massachusets order of bare root berries came in yesterday and they needed to be planted.  I finished 100' of canna lily tubers, 100  Himbo Top, 100 Joan J raspberry canes, and 100 Prime Ark Freedom tissue culture blackberry starts and got them all watered in.

I ran out of time to finish so the Facrells planted the 100 Crimson Giant raspberry canes.  I also ordered 25 Niwot everbearing black raspberries.  Sold 14 at the store today and will be planting the other 11. They look amazingly stout.

16 May 2016
Picked 8-10 pounds of smaller strawberries from the triple Seascape row planted last March 25th.  This was the row that we covered with plastic near Memorial Day last year after they were planted.  The plants don't look well now and berries are smaller and fewer per foot than the new row mentioned above.

We are letting the kids pick the ripe strawberries in the small test garden. Both the Cabot and Eversweet are ripe but they aren't on plastic mulch so the lawn sprinkle splashes dirt up into the berries.  I planted them there mainly for propagation - to keep some Cabot around after we pulled our main row of them out this spring, and to see who Eversweets do. The Eversweet strawberry starts are sold in stores locally and are not available through our main wholesale nursery suppliers

Ryan and family came over to the yard after a full day of funeral proceedings for Grandpa Brower.  Robyn planted a whole row of carrots (Half Long, Parisian Round, and Little Fingers) while Ryan and Patrick planted the whole row of cucumbers (regular slicers, Amenian, and picklers).  Patrick and Ian had already planted 2 rows of corn.

Then Ryan and Patrick helped plant 2 full plus 4 plants in the peppers row of tomatoes.  We planted all of the sweet bell peppers.  I composted and hilled up the Pontiac Red potatoes a couple of days ago.

17 May 2016
Patrick brought Ian and Eva to meet me over at the Coleen garden tonight.  We planted two 50' rows of Yokon Gold potatoes and two 50' rows of Norland Red potatoes.  The raspberries are planted in double rows - rows spaced 18-24" apart.  Then the varieties are spaced 10' apart.  We planted our potatoes in this 10' space between raspberries. The potato harvester wheels are spaced 4' apart so we planted potato seed at 3' and 7' between raspberries allowing us to plant 2 rows of potatoes this year.  Next year the raspberries may be too bushy to allow 2 rows of potatoes like that.

18 May 2016
Dug all of the rest of the Caroline raspberries coming up along side the normal row and moved them to our planting area on Colleen in Boise. Also got the 11 Niwot black raspberries planted over there.  Patrick stayed home and finished prepping a large and smaller planting row either side of the Black Monuka grapes with sand and compot and got it all tilled and ready to plant.


20 May 2016
We picked the largest crop of Seascape (new row 2 June 15) yet this year.  There was 26 pounds on that row and 8 pounds from the Eversweet and Cabot new small rows in test garden.


23 May 2016
Got another 6 yard load of compost from Melba today.  Kristi and friend Jenni came over with families and helped finish planting our garden. they picked 4 pounds of strawberries from the new 6/16 row and a couple of bowls of strawberries from the little garden and and older triple row of Seascapes.  We planted peas, spicy peppers, cilantro, onions, zucchini, yellow summer squash, banana squash, butternut squash, spaghetti squash, and watermelon.  I cleaned out most of the weeds in the Heritage raspberries.

Then I went over to the Colleen garden and put old hay straw around the Prime Ark Freedom blackberry starts for mulch.  Charlene spent 4 hours yesterday watering the Caroline and other raspberries over there.  I watered the pototo rows and a couple of raspberry rows, the cannas, and the blackberries.  We are still watering by hose.  Noor set up most of the sprinkling system this weekend.  Now we need to get the irrigation pump running over there.

30 May 2016
Gabe and I picked 2 pounds of June 2015 Seascape strawberries

2 June 2016
Kristi and kids picked 7 pounds of June 2015 Seascape strawberries

3 June 2016
I picked 16 pounds of June 2015 Seascape strawberries
I picked 3 pounds of Eversweet Sep 2015 strawberries
I picked 8 ounds of Sep 2015 Cabot strawberries
(1 record breaking cabot strawberry weighed 3.3 oz. The other 2.4 oz)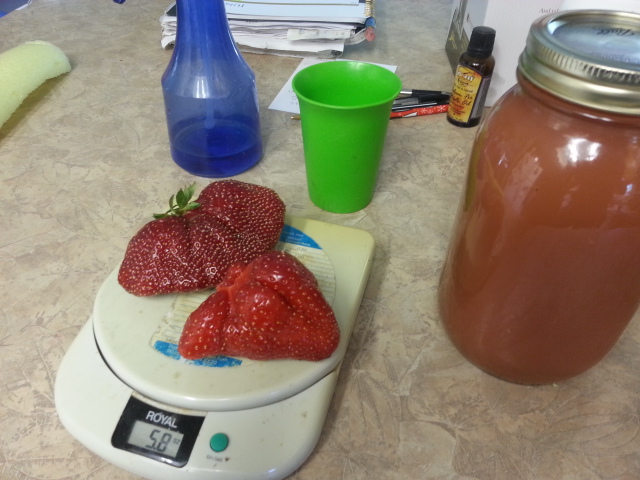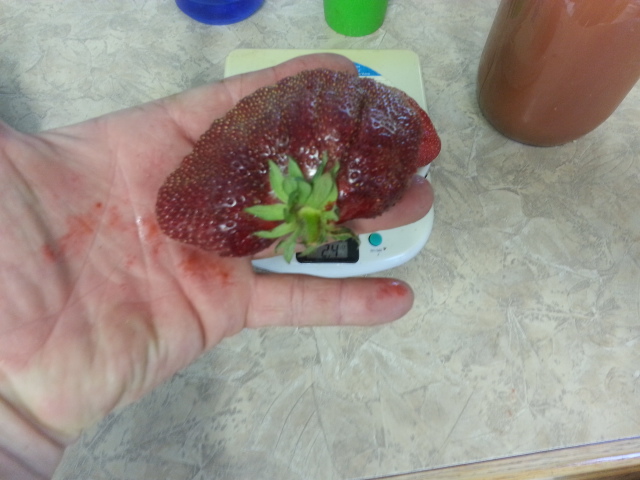 14 June 2016
We picked the last of the big "June" crop of June 2, 2015 Seascape row this afternoon.  There was 9 1/2 pounds.  A few more will ripen along the row but the bulk of the initial spring crop has ripened and has been picked.  That row will now reset and send out a new set of blosoms for another crop.  "June Bearing" varieties will now stop producing.  This one is considered "Everbearing". We logged 78 pounds of berries picked from this row. Considering that we probably ate a pound or 2 of berries while picking I will assume that this row produced 80 pounds of strawberries to this point this year - 12 May to 14 June.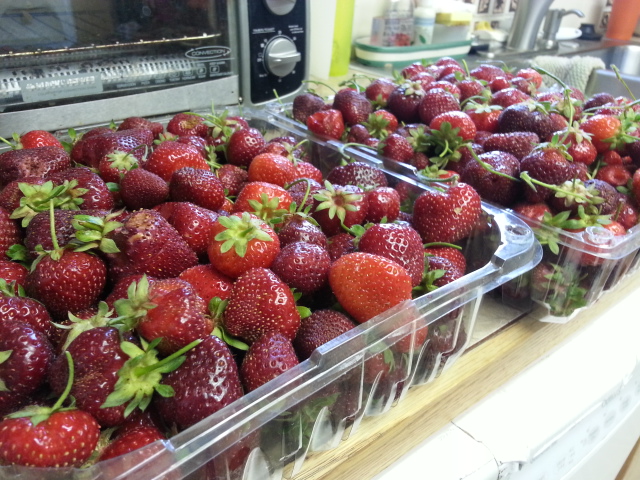 The Titan raspberries are in full production.  It is raining tonight.  We should have picked this morning but didn't have time. Most of the fall-bearing raspberry varieties have ripe berries.  The Canby are just now showing some red berries.  The Jewel black raspberry is ripening its tip berries.  The boysenberries are ripe enough to start eating.

We have been eating bing cherries for a week or so.  I picked a big bucket of them last night but the inner worms are starting to show up in the cherry already and the trees have really just barely ripened.  That will ruin it for most of us.

20 June 2016
I picked 5 gallons of raspberries between Saturday and today from our yard.  All varieties have ripe raspberries.  Even the Tulameen are starting to ripen now.  After I picked the raspberries from the floricanes of the Himbo Top, and Joan J, I cut out the old canes and only left the new canes even though there were ripening berries on the floricanes.  Just wanted to clean them up and floicanes were laying on the ground - last year being their first year.

I weeded the Coleen garden upper potatoes and black raspberries today.

Prepped and planted a 100' row of strawberries at the Coleen garden.  We planted side by side through plastic over drip tape  100 Albion strawberries on lower end and 100 Seascape strawberries on the upper end.  That is the last of the 7000 strawberry plants we ordered this year.  No more for this year.

We ran the irrigation pump gas engine at the Coleen garden from 11am to 11pm today.  Had to fill the gas tank every 2 1/2 hours and the govenor on the engine fell apart so we are regulating the engine speed with a stick.  We can only run  1/2 of the 12 sprinkler heads at a time because the pump doesn't generate enough pressure to run all of them at the same time.

23 June 2016
Picked a gallon of raspberries at our place last night and another one this morning.

Prepped a double drip tape under plastic 100' row for peppers on the 21st.  Didn't get back to it till tonight.  Charlene and I planted about 80 of various pepper plants.  Most of them starting on the upper end were those multi color mini bell peppers I got seeds for and planted in the greenhouse but never got them out into the yard.  Then next we planted regular green bell peppers, then Charlene's Calibornia Wonder bell peppers, then 2 other varieties of peppers including Garden Salsa spicy peppers.  There is still room for 20 more and I think Charlene is going to get some Jalapenos to fill the bottom end.

Last weekend Brian found a 3" water pump mounted to a working 8hp gas engine.   We will see if we can get it to work on our Coleen garden watering system.

24 June 2016
I picked 4-5 gallons of raspberries today. Each of the large cookie sheets fills 1-1 /2 gallons freezer container.  I picked a box of berries this morning that weighed 7 pounds and will be interested to see how many gallons it equals.  Ryan & Robyn came over tonight and picked another   1 1/2 - 2 gallons.  And one of Ryan's friends picked another gallon with us tonight.  Tomorrow morning a couple of people will be coming to pick raspberries.  The Canby thornless and Titan thornless are in full production. All of the fall-bearing raspberries have ripe fruit on them but are hard to get to.  The K81-6 are also in full production.  Berries seem to a little crumbly with very large druplets. Berries are on the larger side.  Flavor is ok. The Tulameen are now starting their ripe season. Their berries are large and very heavy and apear to need to be a darker color than others before they're ripe enough to pick.  I may not be getting enough water to them.  I will do even more thinning on them next year.  I thought I butchered them enough this year but didn't get even close to thin enough.  And I may have to change from drip tape to either hard poly pipe grape style drip emmitters or pvc pipe with small hole drilled every 4 inches for example and run on very low pressure.  That would save me from changing the drip tape every year or so anyway. 

The Sweet Ann strawberries are gorgeous perfect large cone shape and pretty color berries.  I ate 4 or 5 tonight along the 60 foot row.  The flavor is pretty lightweight - so far anyway.

I weeded the carrot row for the first time this year.  That is slow work.  Kristi knows. They weeded the new peas comingup the other day and it goes just as slow.  I also weeded the whole cucumber row.  They are a little crowded by the Canby raspberries.  We may move the cucumbers next year and just have one row crop between the Caroline and the Canby.

I also weeded 3 rows of strawberries, Staked up the 10 Prime Ark Freedom blackberries we planted last year, and planted the 6 Marion Berry plants I bought earlier this year next to the other one out there.

Kiowa blackberries are ripe.  The 2 larger boysenberries we have are ripe now.  The smaller variety bloomed like crazy but are not working - tons of berries but 1/4" in size - I may pull them all out.  This is the second year they have done this to us.  The Jewel and Bristol black raspberries are in full production now.  We just moved them last year so the fruiting canes are smaller and berries are a little smaller but still delicious.


18 July 2016
I am declaring the spring bearing raspberries done.  There are a few out there still especially on the Tulamene.  But the Canby and Titan are finished and ready to have last years canes  pruned out and the new canes thinned and placed inside the retaining wires.

We picked our first full picking of Triple Crown blackberries today - an easy couple of gallons.

3 August 2016
The early peaches are ripe enough to pick but almost not ripe enough to eat off of the tree.  A few years ago I remember waiting until they were all ripe before picking but the earwigs got into them bad.  I don't see any bugs in them this year.  We didn't take care of them again and didn't water them so the fruit flavor isn't developed and they are smaller.  They are plenty good enough to eat though.

The Triple Crown blackberries are still producing but slowing down.  The Joan J, Himbo Top, Polana and Autumn Britain fall raspberries are really ripening fast now.  The Caroline and Heritage are not yet showing any ripe fruit on the primocanes.

18 November 2016 (Friday)
The weather finally got cold enough to freeze the strawberries.  Last couple of nights was below freezing at 28-30 degrees.  Next 10 days will not freeze.  And then temps will drop below freezing on a  pretty consistant basis at night. Last Monday I pulled out the cucumber row trellis posts - even the concreted end ones.  The whole row is moving so that instead of having 2 rows of vegetables in the 12' spacing between the Canby and Caroline raspberries, we will only have one row.  It also allowed me to use the tractor ripper teeth between the raspberry rows to pull out crossing root systems. The ripper teeth dig down about 15 inches.  I also "ripped" out raspberry roots between the Canby and the Titan varieties.  I have noticed that even though the Seascape strawberries continued to fruit and ripen until now, the Sweet Ann stopped producing weeks ago.  The Monterey also stopped producing before the Seascape variety but went longer than the Sweet Ann.  My Monterey strawberries could have been more healthy too and they may have done better.  The Sweet  Ann were extremely healthy all year, fruit was large and delicious, but the fruit production was below that of Seascape.  I tore out the 2014 row of Seascape strawberries.  We should have done that in March and replanted.  This removal though gave me room to use ripper teeth with the tractor on the spreading roots of other side of the Caroline raspberries.