Located in Boise Idaho we move pianos throughout the Treasure Valley and across the Western United States, including Idaho, Washington, Montana, Nevada, Wyoming, Utah, Colorado, California, Oregon and Arizona.
Call first to make sure I'm not out moving or tuning pianos.
Pianos N Things Music  (208) 484-8520
10378 W. Overland,  Boise, Idaho. (5 Mile/Overland Albertsons Shopping Center)
Store Hours: Wed-Sat 10-6 or call for appointment to see pianos anytime Mon-Sat.

_________________________________________________________

Piano Moving Services
(208) 484-8520  

We move pianos local Boise area.
We move pianos long distance.

Pianos N Things Music, Boise, Idaho
1745846  DOT Registration
MC676031  Federal Motor Carrier Freight Authority
We have complete commercial insurance
________________________________________________________________


Local Boise "Standard Move" Prices
For Boise City, Meridian, Eagle, Kuna, Nampa, Hidden Springs

No Upstairs or Downstairs
We do not carry your piano up or down staircases or up or down hills.
We use ramps to handle 2 or 3 steps.

$120 All Vertical Pianos - I come alone* with all necessary equipment
$195 All Vertical Pianos - I bring equipement and one person to help
       

$200 Grand Pianos - I come alone* with all necessary equipment
$275 Grand Piano - I bring equipment and one person to help
Fee may increase for LARGE or ORNATE or PLAYER grands.

*You may provide help at both ends to save money on your piano move.
90% of our moves are considered "standard" and require only that someone help keep the other end of the piano straight while we "wag" through doorways and down or up the ramp. Very minor lifting may sometimes be required by helper. I do all the lifting and heavy work. The piano rolls around easily on the piano moving dolly. Grandma still thinks it takes 6 people to move a piano - it probably does without the right equipment.

S. Nampa, Caldwell, Star, Middleton  - add $20 to the above prices.



Long Distance "Standard Move" Prices
(prices shown are for pianos on scheduled load with multiple pianos)

No Upstairs or Downstairs
We do not carry your piano up or down staircases or up or down hills.
We use ramps to handle 2 or 3 steps.

$750  Vertical Piano
$1100 Grand Piano
Up to 6 months storage is included for long distance moves when paid in advance.



Private Distance Prices to/from Boise

$  550 Hailey, Ketchum, Sun Valley
$  700 Pocatello, Blackfoot
$  850 Idaho Falls, Rexburg
$  950 Salt Lake City, Provo, Ogden, Logan, Pendleton
$  950 Pasco, Kennewick, Richland, Walla Walla, Driggs
$1050 Jackson Hole
$1250 Reno, Spokane, Moses Lake, Yakima
$1250 Eugene, Rock Springs
$1350 Medford
$1450 Seattle, Portland, Olympia, Tacoma
$1500 Bellingham, Cody
$1550 Sacramento, Chico, St George, Grand Junction, Great Falls
$1650 Las Vegas
$1850 San Francisco, Oakland, San Jose, Morgan Hill, Stockton
$2150 Flagstaff
$2250 Denver, Bakersfield
$2350 Los Angeles, Palm Springs, San Bernadino, Chino
$2450 Phoenix, Yuma, Albuquerque, Santa Barbara
$2650 San Diego, Tuscon

Fees increase with difficulty (steps, tight turns, oversized pianos)                             
Increase fees for grands 7 - 9'
Increase fees for player grands or 6-legged pianos
Call us anytime more information.

     
6 percent sales tax charged Idaho residents for merchandise and rentals.
No sales tax charged on services or interstate purchases.
____________________________________________________
Boise Idaho Piano Mover, Piano Moving, (208) 484-8520
Local Idaho and Western States Long Distance Piano Moving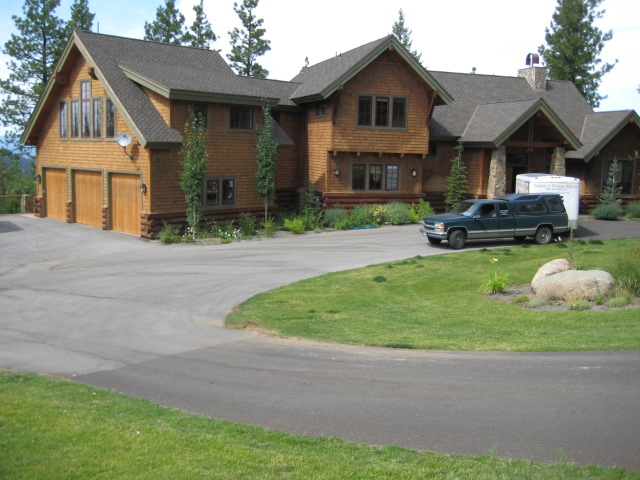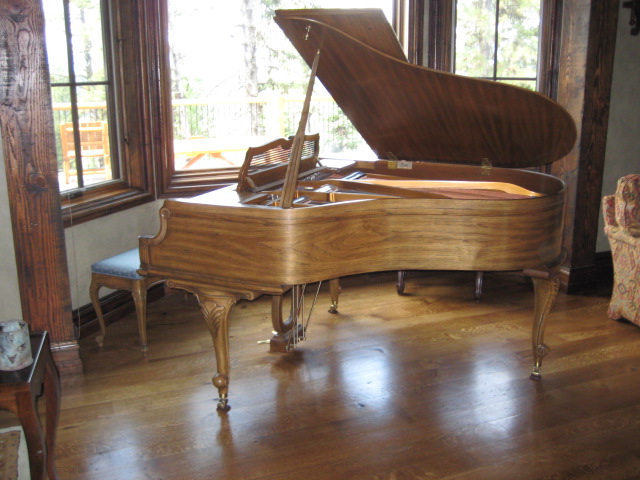 We moved this piano into this home in August of 2009.  Then because of water damage to the flooring in the kitchen since then, the whole floor needed to be refinished. We moved the piano out of the room for a week or so in December and then back in following floor work. A follow-up tuning was provided.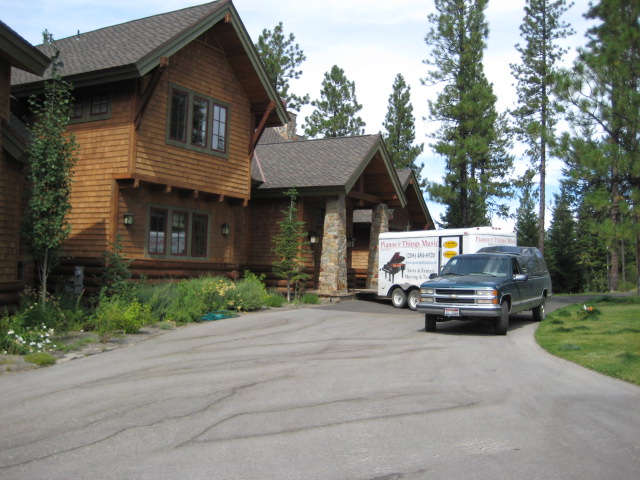 Pianos N Things Music, Boise, Idaho
(208) 484-8520   



________________________________________________________