Welcome To Our 2015 Garden


March 23
Dug up all of the Cabot strawberry plants from between the Heritage raspberries and planted a full 60' triple row of them out in the garden.

April 1
First feeding of Zamzows Thrive to new plant starts in the greenhouse.  Justin and family helped plant all of the onions in the strawberry test row today.  And we filled in the triple Seascape strawberry row with the new plants that arrived today.

July 13
The Cabot strawberries have been done producing for a couple of weeks. I actually ate a couple today but they really are done.  They have to be a favorite for texture and flavor - so easy to manage and pick.  Today we cut all of the plants off at about 2" tall which is a very easy way to get rid of all the runners which aren't needed on a plastic covered row.  The plants now have time to fully develop again by fall and give the crown some cover for winter.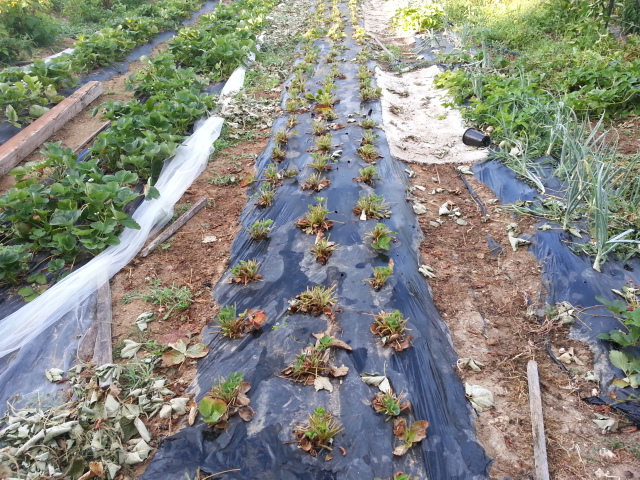 Trimmed Cabbot Strawberries

July 13
Kristi and family helped in garden all day. First zucchini, cilantro, jalapeno and bell peppers, tomatoes.  We trimmed the Sulfolk Red grapes from starter bush to main stem stakes.  After they left I put the metal grape stakes up down the row of Black Monuka grapes.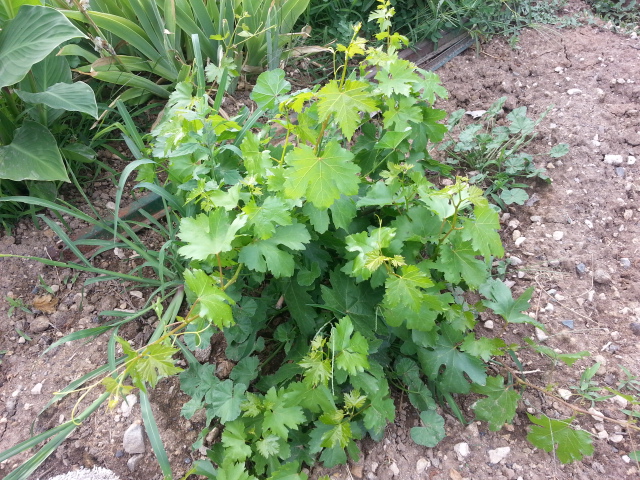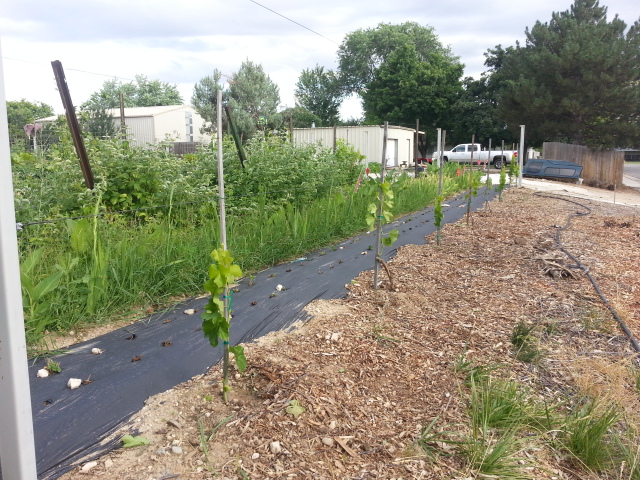 July 14
First picking of Triple Crown Thornless blackberries.  There are 52 ounces in each cookie sheet for a total of 6 1/2 pounds. They go into the freezer for about a day and then into square gallon ice cream containers.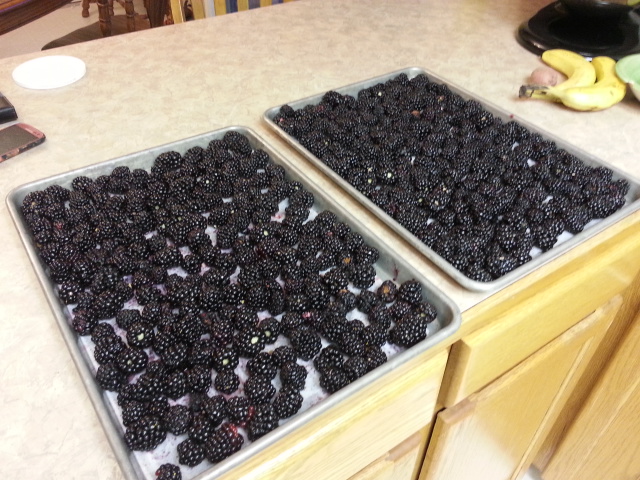 July 20
Floricane raspberries are done for the year. The Heritage floricane raspberries are ripe but almost done. The primocane berries are starting to bloom.

July 23
Kristi and family here to help in garden.  First 10 pound cucumber picking today.  Picked another 3 1/2 pounds of blackberries (total so far about 15 pounds including what we've eaten fresh), almost 2 pounds of strawberries.  Tomatoes are a little sparce right now - tons of green ones.  We picked over 20 pounds of tomatoes the last 3 weeks.  Our red potato vines have died back but it is too early to dig for storage so we are just digging as we need them.

We planted 10 Prime Ark Freedom primocane blackberries earlier this year about the end of May. They came as leaf culture - very small plugs.  They grew 2 or 3 leaves and then stopped growing.  So I moved them over the another place Jul 21.  I sprinkled oyster shell, some ashes from our tree limbs burn pile, sand, and fertilizer.  I put some ashes in the soil where we planted them the first time thinking organic matter was good.  But there is a chance that lye and salts are leaching from the ashes and toxic to the new blackberry starts.

The Cabot strawberries back up about 6" with new leaves. The Seascape and Albion strawberries are producing nicely now.
July 24
Picked 2 1/2 pounds of sweet peppers, 2 pounds of strawberries, and 5 pounds of cucumbers

July 27
Picked 3 pounds of strawberries, 1 pound of blackberries

August 6
Picked 5 1/2 pounds of blackberries, 3 pounds of strawberries, 4 pounds of tomatoes, 9 pounds of cucumbers.

August 8
Picked 10 pounds of tomatoes

August 9
Picked 15 pounds cucumbers and 3 pounds of tomatoes

August 10
Kristi and Oliver and Piper planted spinach and carrots next to the cucumber row today.

August 17
Kristi and family picked lots of tomatoes and peppers today.  The Root family came over and picked lots of tomatoes.  And I took a pretty good size box of tomatoes to the Browers yesterday for family to share.  Up until now you could find 5-10 ripe tomatoes.  But this week there is 60-70 pounds of ripe tomatoes out there.

Kristi and Piper planted a couple of rows of peas today.  There family and our family have made lots of pickles so far.

August 21
We cleaned the last plums off othe Plum tree today.  There were about 5 pounds of smaller plums that were in good shape.  We pulled all plums off of the tree, even the dried ones.  So it is done producing for the season.  The pears are large enough to pick - never sure when to do that. They fall on the ground.  I pick up the riper ones and carve away worm spots and eat the rest.  I should come up with a better system for our pears.

August 24
The Albion and Seascape strawberries are bearing heavily.  Kristi and family helped harvest all of the Walla Walla onions today.  The tops have all died back.  Then I noticed that one of the onions was rotting from being in the moist row under plastic.  I still irrigate the row for the test strawberries.  So we decided to pull them out of there.  We'll leave them out on the ground to dry for a couple of days and them box them up and bring them inside.  There was only one or two soft ones.  They rest look great!

We've had an abundance of spaghetti squash this year even with the squash bug damage.  The spaghetti squash was the first type of squash damaged by the squash bugs.  Now there is bug damage in the other squash also. We kept them controlled by hand until the plants got so big and we laid carpet between the rows and plastic between the plants for weed control.  Then we didn't have much control of the squash bugs who probably hide under the carpet and plastic.

There are lots of tomatoes and peppers.  The San Marzano tomatoes are still not ripe but we planted them very late in the spring.

August 27
Today was the last picking of our Triple Crown Blackberries. I only picked about a pound.  The season seemed to start and end earlier than normal because of all the warmer weather in the spring.  Today was our first big picking of fall raspberries. I picked just under 1 gallon. The Polana and Heritage are loaded.  Our Heritage are better established 2nd year plants but are behing the north side of our back shop in mid day shade.  The sun hits them in the earlier morning and afternoon again into the evening. They are robust plants with thick canes even 4' from the shop wall.  They will produce nicely this year.  The Polana I mentioned are producing now but since the plants were all moved this spring their crop will be small.  Half of the Polana raspberries are "double" attached side by side fruits.

The new peas are coming up and the new carrots and spinach are doing GREAT.  They were crowded out so fast in the spring by the weeds.  This planting is coming up without hardly any weeds at all.  That row looks so clean.

I stopped by Robert Hunts place at Maple Grove and Ustick this afternoon and notice that his Anne yellow raspberries are in full production.  I ate 3.  The flavor is amazing and his berries are big.  We planted 10 Anne raspberry plants this year and only 3 lived. They are about 2' tall.  Our patch will grow soon enough. He gave me a couple of Ambrosia cantelope Saturday.  He has lots of really niced sized cantelope.  Robert and his brother Jim Hunt grow lots of Gladiolus flowers.

August 31
I finally did the initial pruning and tieing one vine up the stake of our Black Monuka grapes that we planted this spring.  After we planted them, they send out 5 - 10 vines from the root.  Today I cut out all but one and tied it up a stake toward the cordon wire of the row trellis.  I did this for the Suffold Red grapes over a month ago and they look great. 

In June 2011, we planted Emerald and Flame Seedless grapes with my sister Heidi's family.  I didn't have a trellis up for them and didn't take time to care for them. Then after we got the trellis posts and wire up this June, I did the initial pruning from 10 vines per plant sprawling on the ground to one 1/4" thick vine up a stake and onto the trellis cordon wire.  Now those grapes have filled the trellis with greenery and the trunk is over 1" thick.  They tried to grow baby grape bunches but I pruned them all off today. They won't have time to ripen and I want all of the growth to go into the vine.  I did the second major pruning and tieing of the Emeral and Flame Seedless grapes today.  I tied up the vertical fruiting laterals that are growing up from the cordon and cut off the laterals growing downward.

We are picking our Flame Seedless grapes. There is only one producing plant.  It may have to move next year to make room for the Monuka grapes.  Also picked a nice ripe watermelon today.

Kristi Searle and family helped plant for our fall garden the Broccoli, Kale, Bokchoi, and Leeks plants I picked up from Edwards Nursury Saturday.

I took a comparison picture of the snack tomatoes.  All 4 types we planted are ripening now.  There are Yellow Pear, Juliet Grape, Sweet 100 Cherry, and Principe Borghese Salad tomatoes.  Almost all tomatoes are ripening now.  I will go around the garden and note for this record which tomato varieties wilted this year.  We may not plant them next year. I know that all 4 of the Siberian tomato plants died in the row with other varieties that didn't.  A few years ago we grew an amazing Siberian tomato plant.  I remember that the tomatoes were smaller and that there were tons of tomatoes and they all ripened at the same time.

I cut all of the seed pods off of the canna lilies and I believe that they will continue to bloom.  I also cut off the gladiolus blossoms. There are only 3 or 4 still blooming. I picked the remaining 20 ears of corn and brought them into the house. Peggy and I had a couple for dinner tonight with our bacon lettuce tomato sandwiches.  I husked them and planned to cook them and cut the corn off of the ear after dark.  I ended up giving them to Jerry Stevens who stopped by to say Hi.  He blenders the corn and makes a creamed corn that his wife can eat.
It is getting dark between 8:30 and 9 now.  The weather has been about 90 degrees during the day and 65 at night.  No more 100 degree days.  Next week they are forcasting mid 70s for a couple of days with upper 40s at night.

5 October 2015 (Monday)
They turned off our pressurized irrigation water today about 3 pm.  Last year it turned off the same day at 8am. In 2013 they turned it off at 8am on 5 September (see 2013 garden). Our fall garden still needs water. The weather is dry and temperatures will be in the mnid 80s this week. We have this same need in the spring when we plant strawberries, onions, broccolli, etc and have no water until April.  In anticipation of this shutdown, I built an array of IBC totes pictured below to hold a resevoir of water for the irrigation needs of our garden through the end of October and then again in the spring for Feb, Mar, and into April when they again start up the irrigation system. I ordered 2 more totes of the same style as the array to match dimesions for piping heights and clearances. The odd style totes don't line up right to the array and make piping difficult.  When the array is complete there will be 21 filled 275 gallon totes providing 5775 gallons of water for our garden.  We have also filled the odd size extra totes (1-275 gallon & 3-330 gallon) for an overall total of just over 7000 gallons of irrigation water storage.  These were filled with a garden hose at the rate of about 700 gallons per hour.  They are stacked 3 high and 7 wide on concrete.  The specifications for the IBC totes say that you can actually stack them 4 high. 3-high is high enough for me.  They seem very solid.  I found that if I opened the water storage of the upper 2 levels to the bottom level that the weight of the water bulged up the top of the bottom totes to lid-popping levels and bent the top frame of the lower level totes. 2 of the lids of the lower totes started to fail when the water level got to about 4" in the bottoms of the upper level totes.  Each tote is plumbed through its bottom butterfly valve to a 2" fill/drain mannifold. Each tote is also plumbed through the top lid to a 1" vent/recirculation manifold.  Each vent/recirculation manifold level  has its own 1" shut off valve at one end.  No real need for individual level valves for the fill/drain manifold because each tote has its own 2" valve.  When we realized that the weight of the upper water levels if allowed to mix with the lower level would buldge the lower tank, I closed all of the fill and vent valves of the upper 2 levels and drained the lower level tanks so that there is about 2" of head space above water level in each of the tanks - no pressure on the lid and 1" fitting in the lid. I performed this same draining to provide 2" head space in the 2nd level tanks.  Then we continued to fill the 3rd level without incident.  Looks great.  There are no pumps or filters in the system yet but it is set up to both filter/recirculate and pump to garden.  These are clear tanks and will probably grow algae unless we either block out the light or filter or both.  This array was built inside our shop which will be much better than the old outside tank for winter freezing protection.  But without heat the fittings and piping would still freeze in the coldest winter weeks.  I will set up some way to give it a little heat when needed.  We sold the 2000 gallon round tank we've used for 2 years to HGTV in New York who will be using it to store water for their Hobbit Homes hotel project in Wenatche, WA. They picked it up Saturday 2 weeks ago.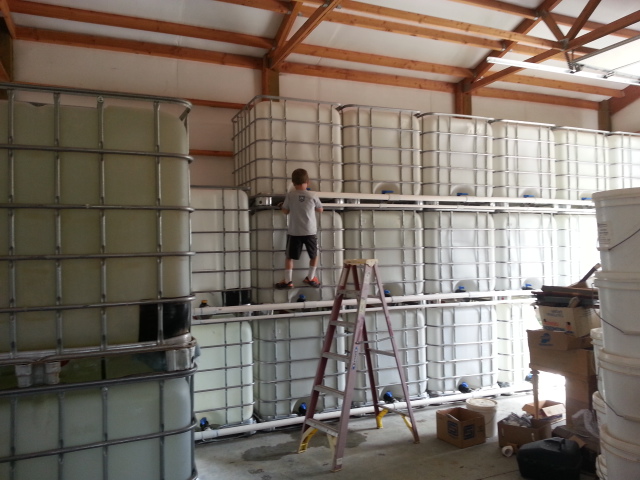 Ladder is 6' tall. Bldg walls are 14' high. You can see the 330 gallon tote left of Gabe that is taller than the others in the 2nd level.  It is coming out and the 2 I ordered will be going there to match the height dimesions of the other totes.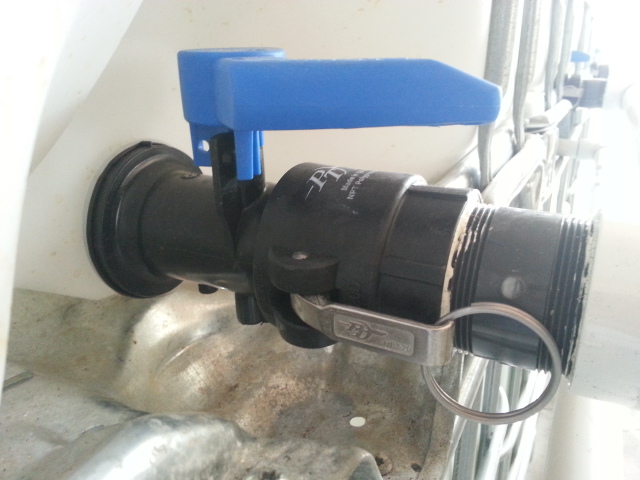 IBC cam-lock valves with 2" female NPT adapters


7 October 2015
I picked up the other 2 IBC totes we ordered.  I'll be plumbing them into our storage array next Monday.

Tomatoes are a heavy crop.  Romas are now ripening.  The fall raspberries are still producing heavily.  Thinning our new carrots.  Kristi has weeded the new peas.  I would say that the strawberries have backed off some but are still making beautiful and delicious fruit.

18 October 2015
I picked 200 San Marzano tomatoes off of one plant which filled a 1/2 bushel peaches box.  I filled a 1/2 bushel peaches box with the larger La Roma (twice the size of San Marzano) from 2 plants.  I filled the same size box with 10-12 oz Rutgers tomatoes from one plant.  There are a lot of tomatoes out there.  I took these and also about 20 Yellow Jubilee 12-14 oz tomatoes to the church share table.

19 October 2015
I went out to the Berry Ranch on Hwy 20-26 in Nampa this morning and picked raspberries for 1 1/2 hours.  I was careful to lift and clean the vines of ripe berries as I went.  I picked about 250' of the inside of both the first and 2nd rows closest to the west road. I filled the 12" x 18" x 3" carton they gave me to pick in about 2/3 full.  The weight was just under 8 lbs.  I'll guess that it was a little heavier than  normal because of the rain last night. Everything was wet.  She said the weight of my container was more than a "flat".  Their PYO raspberry pricing this year is $3.15 (1st 7 lbs), $2.15 (2nd 7 lbs), $1.80 (3rd 7 lbs, or $1.45 (over 21 pounds) for same day picking.  She charged me about $22 for my 7 lbs plus.

They must not spray for weeds.  And they don't mow between the rows.  Much of the weed grass was as tall as the berry plants.  The grass seed tops were mature and wet so as you walked through it the grass seed would flip into the raspberry carton I wasn't careful.  The berries are a nice size.  The larger fruit was about 4 grams.  I measured 7 to be 28 grams.  That is a nice size.  Earlier in the season they may be slightly larger.  There were 4 or 5 rows of ripe raspberries that were over 1000' long.  Sounds like they planted these plants about 5 years ago.  The raspberry plants are laying over a double twine trellis line at about 4' high.  Trellis posts were at least 50' apart, mayble more. Rows were at least 6' apart. There was plenty of walking space between rows.

The Berry Ranch pricing this summer for thornless pick your own blackberries was $2.60, $2.30, $1.80, or $1.60  per pound graded for each 7 pounds added to your picking. The blackberry patch looked amazing.  The rows were at least 6' apart.  The strong multiple wire trellis held plants 6-7' tall.  Their trailing vines had grown up through the top trellis wires and back down to the ground.  There was no bird netting on any of the berries.  I chased a small group of birds out of the raspberries but I  noticed no bird damage to the fruit I was picking. I had fun there even though it was cold and wet.  I will estimate that I could have stayed all day and picked 500 pounds of raspberries from their patch.

6 November 2015
We did get some minor frost a few days ago and a few of the green tomatoes show some top darkening.  This morning we got real frost and temps at or below 29 degrees.  Pumpkin and squash vines are black.  The grape leaves are brown.  The peas, carrots, brocolli, raspberries, blackberries, kale, and those kinds of things survived just fine.  Even though the peas look great I don't believe they will produce much with such cold weather.  It will warm up now for a few days with a little rain. Then temps in the 20s will show most mornings next week with lows forcast down to 26 degrees.  I picked over 40 pounds of tomatoes Sunday morning before I left for Sacramento.  Then Charlene and her mother picked another 50 - 75 pounds of tomatoes Wednesday evening - mostly green.   I have moved all of the geraniums into the greenhouse.  They get watered automatically there.  I turned the heat on "low" Sunday morning and closed up the loose greenhouse panels.

9 November 2015
I brought home a number of pots from Edwards Nursery recycle box out back.  And I purchased lots of mint starts. All of their mint is grown in 4" pots and priced at $3.49 each. Pony Pack 4-paks weren't avaible for mint.  I got Spearmint, Peppermint, Chocolate Mint, Moroccan Mint, Chewing Gum Mint, Orange Mint, Candy Mint, Strawberry Mint, Mojito (Cuban) Mint, Berries and Cream Mint, Ginger Mint, Basil Mint, Lime Mint,  Alligator Mint, some Greek Mint, Apple Mint, and some Lemon Balm - FUN!