Welcome to our 2011 Garden


10 February 2011
In December we bought a used Harbor Freight 10x12' greenhouse from a family in Meridian, Idaho for $100.  It was 3 or 4 years old.  They had attached it to the post supports of their kitchen patio.  Then they moved it to be alongside their storage shed and fence.  They used it for the first couple of years and then decided they needed the yard space more than they used the greenhouse and sold it to us.  So I dismantled it and brought it home in semi complete wall and roof panels.  We stacked the parts behind the house until today. The weather has sure been pretty.  I was in the mood to put up the greenhouse.  I had tried to find someone to help with the reassembly but was unsuccessful.  So I made my own help.  See pics below.

Beginning Greenhouse Pictures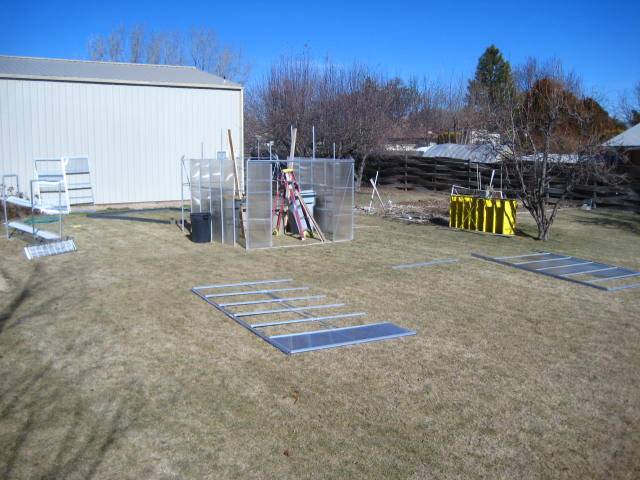 Last week of February 2011
The soil was dry enough to till. All onions, peas, etc should have been planted then.   Normally this happens the first couple of weeks of March.

March 2011
It rained all but 5 days in March.  The soil was constantly too wet to work.

15 April 2011
We pruned all of our fruit trees.  The Santa Rosa plum is the first to bloom and it is just barely beginning to bloom.

20 April 2011
We purchased 20 existing table grape vines from a farm at McDermit and Lake Hazel who is taking out 7 established varieties of table grapes.  The soil was very nice for working.  I clumped the vines together on the north face of our back fench under large junipers and placed a lot of grass clippings over the roots and watered them to keep the roots from drying out while we prepare a place for planting.

22 April 2011  
It was 24 degrees this morning and very frosty.  Most area sprinkler systems were turned on last weekend (15 April).  The daffodils are about finished.  The little burr weeds are fully grown now.  The lawn grass has been cut once and is about ready to be cut again.  Things look nicely green around the yard.

27 April 2011
It is 37 degrees this morning. We have a thick carpet of frost on the lawn.  Yesterday we finished building the greenhouse.  We are missing 4 plastic panels.  A couple of them blew away in the wind storm Sunday 3 weeks ago.  The other 2 were missing when we got the greenhouse. Until we find the thinner plastic needed, I'm using black formica for one large roof panel and thin wood door skin for the other and door skin and some abitibi bath wall plastic paneling for the vent panels.

I bought a bag of 10 Martha Washington asparagus 2-year roots from 5 Mile Farm for $7.99.  They only had 2 bags left for the season.  She didn't think they had any 6 pak vegetables in their greenhouse.  All of the 4 paks were $1.99.  I did find some 6 pak but she didn't believe me.  So they didn't know how to price them.  I bought some 6 pak tomatoes from D B Supply in Meridian for 1.49 and 4 artichoke plants for $1.79 each.  It is getting increasingly difficult to find 6 pak vegetables at the greenhouses nowadays.  Everyone is selling the high priced single potted vegetables from Bonnie nurseries.

Because of the nightly frosts, the fruit trees blossoms haven't been as pretty.  They get frosted back and turn brown.  Hopefully the frost is just doing some natural thinning and not completey deleting our crop of fruit.  The plum tree is still in full bloom.  The peach trees are 1/2 in bloom.  The cherry trees are about 1/2 bloom.  The apple and pear trees have not bloomed yet.

They turned the pressurized irrigation system on 15 April.  But it hasn't worked much since.  Then the New York canal had problems so they lowered its level and we couldn't get water this week.  Last week they got some water and found 4 leaks in the neighborhood so they drained the system yesterday to work on the leaks.  We haven't used the pressurized irrigation system in the past until June.  We get rain almost every day in the spring.  They sent us the watering schedule this year.  All of the 1/2 acres lots on our side of the street get 4 hours of water 3 times a week. The 1 acre lots across the street get 8 hours of water 3 times a week.  We have been given 6 hours 3 times a week because of our 3/4 acre lot.  Then I just use water as we need it for the 1/4 acre pump house lot at the back of our lot that we use for a garden.  They don't show it on the schedule because it doesn't have an address.

30 April 2011
This morning we again wake up to a full blanket of frost.  Temp is 32 at 7:15.  Yesterday it snowed on and off in the early morning but didn't really stick much here.  We saw cars covered with 2 inches of snow.  We are now looking forward to a full week of 60 and 70 degree sunny days.  We'll now work the garden - spread all of the leaves and huge piles of grass clippings out and till it in.  Then we'll get some manure compost this year to fertilize the garden. 

5 May 2011
We picked up another Harbor Freight 10x12' greenhouse today.  It was a mess.  I should have taken a picture of it.  The husband offered to let me have the panels to replace my missing panels.  You could tell he had spent days and days building the base and greenhouse. The greenhouse was normally attached to the channel iron base and that base was screwed to some treated 4x4 timbers.  The wind twisted it badly last August and the whole thing was flat on the ground.  Many panels are broken.  There was really no extra support added to this greenhouse to help protect it from wind damage.

This evening we were invited to participate in a honey bee swarm chase.  The Fackrells wanted us to have a hive of bees.  So we went with them and helped get the swarm off of a juniper bush into a hive box.   We'll take it home tomorrow evening.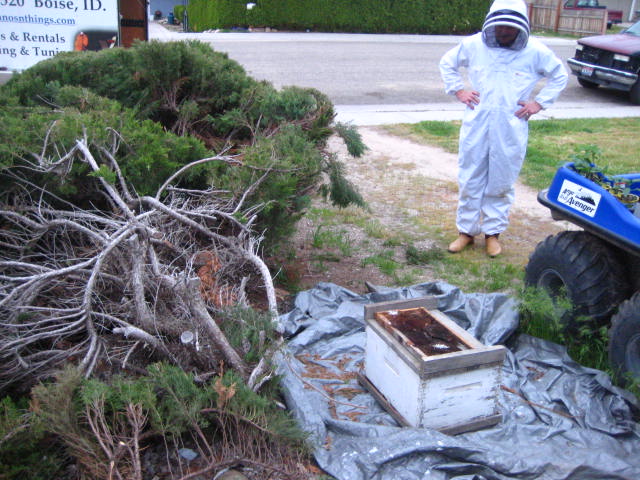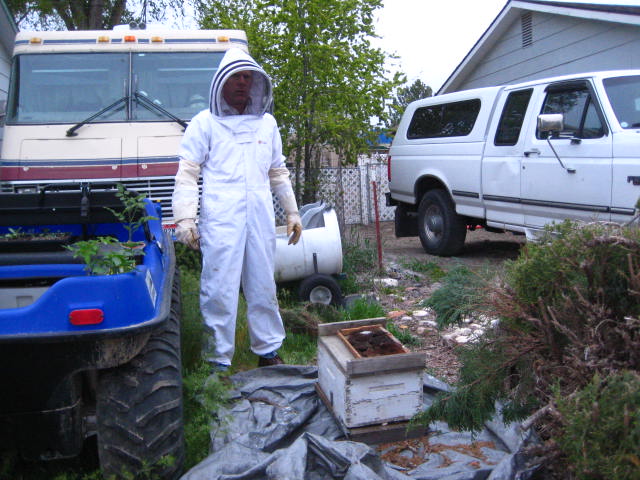 12 May 2011
Brian Fackrell came over and helped me put a new hive box on the swarm of bees we brought home. 

We finished chipping up fruit tree prunings tonight.  We went to switch the 8hp engine from the Troybilt chipper to the 8hp tiller and the engine shaft was too big.  So the Fackrells are letting us borrow a nice 8hp Kohler engine for the tiller. (Found out that the fuel pump was rotten in this engine).


16 May 2011
We added a furry friend to our yard family.



3 June 2011
Today we finally planted our grapes we got on 20 April.  And we will of course find out how many survived. My sister Heidi and kids helped dig them in. They were in town to pick up Chanda who just flew home from BYU Hawaii for the summer.  They also mowed the lawn for us today. Monte Davies stopped by to give us pointers on pruning the transplant grape vines. We planted the following varieties:

   10 Alborz Flame Seedless Table Grapes - The red/purple grape found in grocery stores                   (5 were living in 2012, no production yet though)
     5 Emeral Seedless Table Grapes   - Similar to green Thompson Seedless                                        (4 were living in 2012), no production yet though)
     5 Neptune Seedless Table Grapes - Farmer said these thick skin black grapes are used for raisins  (4 were living in 2012, 3 were producing heavily)

I was using our front tine Merry Tiller last night in the garden and the transmission flywheel key sheared off inside so the tines don't turn now. Fixing that problem means taking all day to take the whole tiller apart to get to the transmission.  Then we'd have to pull the transmission apart to get to the sprocket that sheared off the main drive shaft, rekey it and put it all back together again.  The engine runs just fine.  So I found a family in Meridian that has an old Montgomery Ward tiller whos engine doesn't run.  They will trade piano sheet music and garden veggies for the tiller.  I pick it up tomrrow and hope that the engine from the Merry Tiller will fit.

Grace Janko hilled up 3 rows 50 feet long to plant in our garden earlier this week.  I had to move one of them over to make room for the last row of grapes.

We placed a gallon jug in an apple tree and another one in a cherry tree today with the vinegar solution that will hopefully stop the moths and worms from ruining our fruit this year. We first listed the recipe for the vinegar solution is in the 2010 garden section. Mix 4c apple cider vinegar, 6c water, 2c sugar, place about an inch in the bottom of 1or more cut out 1/2 gallon or gallon milk jugs, mark the top of solution on side of jug, then keep the solution hydrated to that mark when temperature gets warm and evaporates the water.  You should also stir the solution a couple of times a week.  And if rain water dilutes the solution replace it with fresh mix.

The snow is now gone off of Schaffer Butte.  The temperatue last night was 38 degrees but no frost.  The day temps will approach 80 degrees this weekend.  It has been cold and rainy.  The soil was really too wet to plant on Memorial Day.  It is just now dry again enough to till comfortably.

6/4/11
We planted a red rhubarb root that I got from Nampa while moving a piano.   And we planted our (4) 1-year artichoke plants.  I finally got the belt pulley off of the 5hp engine from the Merry Tiller.  Then I put the 5hp engine on the big TroyBilt tiller that normally runs on an 8ph engine.  Then we began tilling again.  The tiller runs surprisingly well.  It lugs down some in deep tilling.

6/10/11
We planted all of the tomato plants out into the garden. We also planted hot and bell pepper plants.  We planted a 50' row of pickling/eating cucumbers, some onions started by Tom Dayley, 2 different kinds of amaranth and 6' of wide row carrots.  This year we hilled up every row in the center of our garden.  We had so much success with the hilled rows in the last couple of years that we decided to hill all rows in the middle area where we have such a problem with drainage.  I tilled to a normal depth. Then we space the rows at 4 1/2'.  I shoveled all tilled soil up toward the center of the row from both sides of the row. Then we knocked off the top of the row and flattened it out to be about 12" wide on top.  Now I can till leaves and grass clippings into the untilled heavy clay soil between rows and work the organic matter deeper than normal at least there.  Each year we do that the rows will be spaced a little differently and the deep soil tilling will move back and forth.  We also need to work some sand into those lower layers of soil and put more sand in the garden in general.  We put 28 yards of sand in the garden last year.  That was a dump truck and it's trailer. They charged us about $230.  We only got about 1/4 of the sand we really need.  And because the poppies were up and growing when the sand arrived, there are sections of the garden that didn't get any sand.

6/11/11
The cherry trees were frosted pretty badly in April so there are not very many cherries in the trees this year.  The pear and plum trees are loaded. The apple trees are also showing very little fruit so they may have been frosted too. I now have 2 of the gallon milk jugs in each of the big fruit trees. I finished making those today.  We still have not seen any codling moths.  They would normally be out by now.  We didn't do any dormant oil spraying.  Some of our peach tree leaves curled earlier but the trees now seem to be doing fine.  The earlier variety peach tree may not live through the year.  The tree broke in 1/2 last year and it isn't doing so good this year.

6/12/11
The weather last week was warming from the mid 50s to the mid 70s.  This next week we will have all sun and mid 70s.

6/22/11
The hottest day of the year so far was today at 95 degrees.  The east end of the garden near the old shop does not have any sand in the soil and it is very sticky to till. The muddy soil is very dense.  We will plan to add sand to that part and maybe some more sand to the rest next year.  We planted 4 rows of Bodacious corn today.  Now the garden is fully planted.  We may add some okra or other items. Now we'll take some time to set up watering systems.  2 of the Neptune grape plants have leaves.  There are no leaves yet on other grapes.  The cucumbers have been up for a couple of days.  We planted 30' of russet potatoes yesterday.  We'll plant the other 10' of the row in red potatoes.  We counted 97 tomato plants in our yard.  I think I'll plant 3 more just to say we have 100.  There are 2 or 3 spares in the greenhouse that I can use. Patrick and Ireland are here visiting for the week from Las Vegas .  Everyone was at our place last night and at grandma Browers the last 2 nights.

7/11/11
The temperature has been up to 95 a lot lately but hasn't gone over that. It has only rained once a little with a thunder storm in the last 2-3 weeks.  There has still been a couple of 40+ degree nights even in the last week or two but I don't think that will be the case any more this summer.  A couple of days ago I caged the Roma and New Girl tomato plants. They are still small enough to cage but just barely.  Almost all other tomatoes are really too big to cage and many are definately too big to cage.  They are growing all different directions and we'd have to prune them to get them to go up a stake or cage.  This morning I transplanted some of the Thai Basil out into the garden from the greenhouse.  They are about 4 inches tall.  I am still watering with a hose because I haven't had time to set up soakers and drip system.  I checked to see why the russet potatoes are not coming up this morning.  The potato seed is completely gone in most cases and not sprouting in those pieces I did find.  Only one has come up and it is tiny.  We planted 10' of red potatoes a couple of weeks ago and only one of them has come up.  I'll still be patient with them but we are going to replant the russet potato area.  The Martha Washington asparagus I planted about 10 days ago it starting to come up.  We planted corn 2 weeks ago and the last seeds are germiinating a couple of days ago.  We planted 3 year old treated corn seed so there are a few that didn't come up just because of age. The cherry trees have been ripe enough to eat for just over a week and are still getting more ripe but there are worms in the cherries.  There are no external holes in the cherries so I'm guessing we need to spray dormant oil in the early spring to stop these worms.  We have had 1 inch of vinegar/sugar/water solution in gallon milk jugs hanging in all of the fruit trees since June 11.  There are at least 2 jugs in every tree.  The carrots are still only 1 and 2 inches tall.  The beets and parsnips are doing the same thing.  My leeks didn't come up so I planted Thai  Basil in there place.  Beans are up 4 to 6 inches.  Peppers have all rooted well and are showing major signs of growing on their own and are now budding for blossoms.  Almost all tomatoes have good amounts of blossoms.  Amaranth is 10 inches tall.  Eggplant is about 10 inches tall and blooming.  Squash type plants are all blooming and trailing.  The yellow summer squash and green zucchini all have fruit on them about 5 inches long.  The grapes that hadn't yet produced any leaves were all pruned way back last week.  There were only 2 Neptune grapes that totally survived the transplanting like they didn't even notice.  They will both produce grapes this year.  We pruned all other grapes either back to the ground stumps or barely left any canes at all.  Now there are 4 more plants showing some leaves.  David and Miriam's broccoli is producing now and the plants are huge but it is going to be too warm to get a tight cluster.  Their peas are huge and loaded and beginning to ripen.  Their lettuce is about done.  There is a lot of lettuce but it has been too warm for it.  Our strawberries are about done producing their spring crop.  Blackberries are absolutely loaded and green berries are 1/2 to 3/4 inch long.

8/12/11
We picked the first 8 pounds of cucumbers a couple of days ago.  Today I picked 16 pounds.  The blackberries are beginning to ripen.  We've been picking and eating from the vines for a week - not enought yet to package for the freezer.  There are always a couple of ripe tomatoes to find out there since a couple of weeks ago.  But they are not all ripe at once yet.  We've been picking zucchini since mid July.  We had to spray for squash bugs today.  I see one or 2 bugs but not 100s like in years past.  We sprayed 2 weeks ago with old spray from last year that may not have been effective.  We determined just yesterday that it was actually squash bugs killing 5 of our squash and pumpkin vines and not our watering habits.  So far we have lost 2 pumpkin plants - only one left, one banana squash, a peter pan summer squash, and one of our 2 spaghetti squash.  The corn started to tassle this week.  Last week we weeded the corn, hilled it up down the row and placed our 10 year old soaker hose in the hilled dirt next to the plants around the 4 rows all in one run.  Then I discovered the pressure reducers that keep the pressure in the line below 25 psi.  I also found a 15 and 20 psi reducer down at Restore I can use if 25 psi blows the lines.  So far the only hole that blew was at an old kink in the hose.  It has worked great for about a week now.  I staked the peppers yesterday.  They are beginning to fall over under the weight of the peppers.  I also staked up the amaranth with a fence. It is falling out in the walkways.  I began staking the tomato cages from falling over.  I put a fence style trellis on a couple of the tomato plants about a week ago but have not had time to stake any of the other big tomatoes.  I need to at least prop the lower branches up so that the fruit doesn't lay on the ground and spoil.  The russian tomato and other heirloom tomatoes are grown clear across the walkways into each other now.  I need to try to trellis them up some.  The artichokes are each showing about 4 small fruit now.  The rhubarb is at second picking stage.  The temperature has been a constant 90-95 and sunny.  I bought 4 sets of 4 tomato varieties from D and B Supply a few days ago for 75% off.  They were less than 10 cents per plant.  I thought I'd see if they will work as starts for winter greenhouse tomato crop.  We have the front door and 2 automatic top vents open on the greenhouse every day and no shade cloth.  The temperature in there is 120-130 every day mid afternoon.  I need to get the other two vents to work and put an exhaust fan and grill on the greenhouse for better temperature control.  The apricots are about gone in the valley.  The plums are ripening this next week enough to pick.  David and Miriam have pulled out all of the their broccoli plants.  Their peas are almost done.  Their corn has large ears on it already.  Their roma tomatoes are loaded.  Grace's fennel is amazing to watch.  I am facinated that it produces such a nice bulb when planted from seed so late - about Memorial Day.  Her parsnips and beets are finally looking like big healthy plants.  She planted bush beans and pole beans this year.  They are ready to pick now.  The pole beans are skinny and long.  Some of them are almost 2 feet long.  She also planted white cucumbers.

9/14/11
The corn has been ripe for 2 weeks.  The soaker hoses still have no holes in them.  These are 12 year old soaker hoses so I am surprised.  The pressure reducers make a difference.  We have picked over 200# of tomatoes so far.  I picked 50 pounds of tomatoes from 1 1/2 rows.  Most of them came from the Beefsteak and Kennington Big Reds.  My favorite tomatoes in the garden this year are the Juliet larger red grape tomatoes.  I like the size and they produce like crazy.  The foliage gets 4-5' tall and should be kept up off the ground. The La Roma are loaded and very large compared to the Romas we usually get.  They grew 3 1/2' tall this year.  We caged them using standard cone style cages and will have to stake them with wooden stakes this week to stop weight from pulling them over.  I liked the 4" size, color, and perfect shape of the Champion.  It's foliage wanted to take over though.  I trellised them and kept them trimmed to 3' wide and 4-5' tall.  We tried a new tomato this year.  We got them from Peggy's Aunt Kathy's dad who invented them.  The family name is Kennington.  He named them Kennington Big Red.  You get them from the various sources.  I believe the patent is held by a University in Oregon.  Kathy's dad helps at the Nyssa Extension Service greenhouses where he does his work.  These tomatoes only grow 2' tall or so and about 2' wide and were loaded with 3-5" fruit.  I didn't stake them but I will next year.  A lot of the fruit split at the top from the heat, maybe more than some varieties this year but they don't have as much foliage protection laying flat on the ground.  Next year I'll trellis them.  I loved not having to prune them.  They seem more like a commercial variety.  The fruit is juicy yet solid.  Last week I pruned all of the excess foliage from 1/2 of our tomatoes.  I finished that project this week.  There is no reason why we should have extra foliage and new blossoms appearing on the vines with only 3 weeks left before the whole garden freezes dead.  I expect major frost every year 10 October.  The larger green tomatoes down under plant need air flow and light to ripen faster.  The pruning shocks the plant.  You can also cut some of the roots or poke a hole through the main stem to shock the plant into ripening fruit faster.

We continue to pick around 15 pounds of cucumbers per day.  They seem slow to produce this year.  We are not letting them get too big.  If they get over 5 inches and over 1 1/4 thick then I pick them and send them to the refrigerator to promote the growth of the smaller pickling size.  I picked 50 yesterday.  Then we picked 10 pounds of small pickle size and there are still cucumbers out there.  The first artichokes are beginning to open up into flowers today.  The volunteer catnip is at mature seed stage.  The bees have sure enjoyed the catnip lately.

The Ceyenne and Hot Portugal peppers have been producing red peppers for a couple of weeks.   They provide pretty color in the garden.  Our Amaranth is hanging at 3-4' lengths.  It is pretty because the hanging seed blooms are bright red.  The amaranth that won the best of show in cut flowers at the Western Idaho Fair this August was about 16" long.

9/27/11
We picked the last 3 dozen ears of corn today for processing into the freezer.  The kernals on the corn are pretty big and not as tasty to eat on the cob.  We also began grinding the stalks with the chipper shredder.  The corn stalks quickly plug up the chipper.  So as long as I have the patience to clean it out 10 times I'll keep grinding.  3 days ago I yanked on the roots of all the tomato plants to start their rapid ripening.  Temperatures are still 50 & 60 at night this week but will get into the 40s next week.  We may start seeing frost.  We have dried over 150 pounds of tomatoes.  That will be enough for this year.  The dried tomatoes now weight about 6 pounds and fit in 6 gallon jars or 6 gallon ziploc plastic bags.

10/18/11
It is 7:30am.  I just walked outside to check for frost.  The current temperature at the Boise airport is 43 degrees.  The garden is still not frosted but the sun hasn't come up yet.  The windshield of the truck in the back parking lot is frozen solid and so is the lumber on a trailer in the back parking area.  That lumber is about 3 feet off of the ground.  There is no frost on the tops of the picnic tables between the house and our middle shop.  And there is no frost yet at the thermometer in the garden placed at about 1 foot off of the ground.  All of the rooftops are white with frost this morning.  Yesterday morning all of the rooftops were white with frost but there was no sign of frost in the garden.

10/19/11
It is 7:30am.  The temperature is 48 degrees and there is a slight breeze.  No Frost today anywhere.  Yesterday after it got light I found frost in the garden but only on the ground on small piles of dried plants from weeding.  The was no frost on anything green or on wet ground.  There was no frost damage to Zucchini and Pumkin leaves or any tomoto plants yesterday or the day before.  Peggy picked 30 pounds of tomatoes yesterday.  There is another 200 pounds of tomatoes and 3/4 of them are just now getting ripe on the vine.  There is no rain in the 10 day forcast.  The next danger of frost will be Sunday with a low of 38 degrees.  Ed Thompson hasn't been bringing lawn clippings since we finished planting our garden this year. The grass clippings put a lot of grass seed in my garden.  I don't have the equimpment or time to compost such a large volume of it. Another major problem with trying to compost his grass clippings is the odor.  Sometimes it doesn't come fresh cut.  If it sits in his truck or trailer through the weekend before he brings it over then there is nothing I can do to stop it from smelling up the whole neighborhood.  He did bring over some chippings from tree limbs from a huge pruning project.  I'll spread them out across the garden.

10/21/11
We picked another 150 pounds of tomatoes.  This is the 3rd major picking of tomatoes and there are not very many tomatoes left on the vine.

10/25/11
We picked the whole garden yesterday because of low temperature forcast. This morning the whole place was white with heavy frost and the temperature at the airport is 30 degrees. Grace came over last night and picked all of her garden too.  The only thing I have left in the garden are the potatoes, dill, mint, Thai basil.  Grace still has fennel and parsnips.